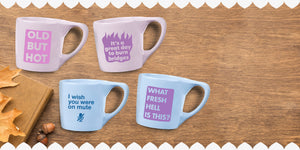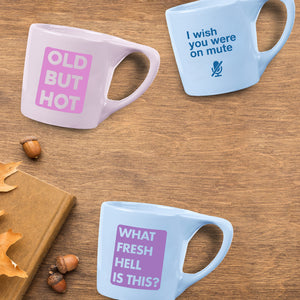 It's getting colder
but these mugs can
keep you warm!
Goods + Gifts for the Above Average
Helping folks connect through witty greeting cards, clever cocktail napkins, fancy gift bags, and bottomless humor.
The Pretty Good Goods
Stick To It:
Relatable stickers for all your moods.
Shop Stickers
Say Thanks:
Send a message of gratitude (the snarky way).
Shop Cards
Here to Help
We have one mission: to help you say what you want to say, better. 
We are a small team creating cards and gifty things that will surprise and delight your friends, family, lovers, and work besties. 
Fun products - fantastic quality!

Ishele
Keeping things simple and fun! I love the simplicity/design of these cards...not to mention the laughs they provide.

Connie
Hilarious These cards crack me up every time I read them! Great quality and fast shipping!

HappyZenMama
Love the dry sense of humor paired with a lot of heart

Hayden